Welcome to Wanted Dead or Alive! We are a Supernatural and The Walking Dead Crossover RPG that takes place in 2034 - approximately 20 years into the future. You're welcome to take a look around and if you have any questions, do not hesitate to pop into our OOC Chatbox. Our staff is incredibly friendly and willing to help in any way we can!
As you can see above, this is our site rating. We are an RPG that will at times deal with mature topics, although any triggers are tagged appropriately and will have proper warnings. Due to this, we are not allowing anyone under the age of 16 to join the site. Please take a look at our guide for any helpful information and we hope you have a fun time!
CURRENT SEASON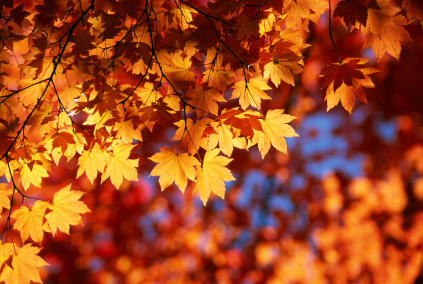 ARMED FORCES STATUS UPDATE
Status:
Severe
Active Operations: All Hallows Eve Festival set in motion - demonic activity has increased by 75%. Guards and Angels are to be on Wall Watch for the entirety of the intiation.
Threats: Croats increasing numbers near Canaan, Caelum, and Mirabili. Demons are increasing their numbers surrounding Sanctus. Possible threat to the prophet. She is not to leave the city at all times.
After all the time that Adriel had spent circling the other Safe Havens, Adriel had to find time to properly get settled back into Sanctus. Sure, angels didn't sleep, but sometimes an angel needed to relax. After a few days of recuperation within Sanctus, he was ready to begin his scouting once more. Even the tiniest thing out of place could lead to something catastrophic, and Adriel was determined to make sure nothing of the sort was to happen.

When Aislinn had alerted Adriel of their brother James and his demonification, he couldn't exactly say he wasn't surprised. With no trace of his body, and the manner of his death through Raptus, Adriel always had a funny feeling that something happened to him. Still, after so many years, he was surprised that he chose now to show up. You would think he would have made his appearance much sooner. But now his niece and nephews were in danger, and he was going to make sure nothing happened to them. Or the Winchester children. Adriel made an oath years ago that he would protect the Asher family at all costs - the Winchester children were no exception.

Today, Adriel was on scout duty. He would rummage through remains within the ruins to find any medicine, unopened canned food, and other resources that may be of help. As Adriel had appeared just outside what appeared to be a warehouse for canning goods, he held his angel blade tightly and looked around for any sight of demons, angels, or croats that may have seen him. So far, he didn't see or hear anything, so he immediately approached the large rusted doors that seemed to be welded shut... but why? There were no other indications of a break in, so why weld it shut? Sighing, Adriel pressed his fingers to the center of the double doors, breaking the weld on it as he then moved his hand back, allowing the doors to open telekinetically.
_________________



Posts

: 14


Gold Pieces

: 680


Join date

: 2014-09-20

Character sheet
Class: Seraphim
Location: Sanctus
Weapons/Abilities:


The last couple of weeks had been relatively quiet for Azrael, which she wasn't particularly keen on complaining about. After all, a little peace and quiet never hurt anyone, and it certainly gave the angel a break from having to run away from trouble or save anyone's sorry butts. Unfortunately, having time to herself also meant trying to catch up with The Roster, and Az had no shortage of deaths to keep record of, even if the amount of living things in the world had taken a sharp incline after all the chaos had erupted.

At that moment, the angel was taking a little break from her Angel of Death duties, scouting around an abandoned town for some food. She could go much longer without eating than a human could, and most other supernatural creatures, but Azrael still needed food. An unfortunate side-effect of being stuck on Earth with no access to home in...a very long time.

She kept her blade out, ready to move at the first sign of trouble. But things were still, and Az kept to the shadows, her green-blue eyes alert and trained for any sort of danger that might present itself. So far, she hadn't found much as far as food went, and it was looking like she was going to have to move on to some other town or establishment. And she was just about to do that...when she heard a loud bang like something had just been opened.

Now, Azrael's instincts told her to just...leave it alone. Move on. Because that sound had been loud and who knew what kind of nasty creatures it would attract? But her curiosity was getting the best of her, and Az found herself moving towards the noise, creeping along until she could safely peek around the corner.

The hell?...she thought to herself, watching as someone walked into a large building. From the looks of it, the opened metal doors are what had made that large bang. She waited a moment though, then crept forward, sticking to the outside of the building for a few seconds before she decided to peer in and see what the man was doing. Maybe there was food in there. Or other supplies. It was worth sticking around.
_________________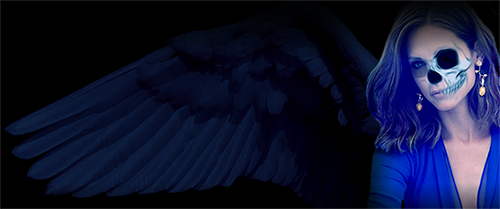 Posts

: 35


Gold Pieces

: 900


Join date

: 2014-09-19


Location

: Near Sanctus

Character sheet
Class: Seraphim
Location: Drifter
Weapons/Abilities:


Adriel was in no hurry to look around since he didn't exactly have a set time to be back, so he took his time for looking around to make sure that he didn't miss any resources. the first few rooms were the manufacture centers where they labeled cans, so he didn't see much around, but he made sure to also keep a lookout for Croats or Walkers. With doors shut that tightly, he doubted that just anyone could get in - or out.

Still, there wasn't much going on here. Taking a step into the next room, he did see a few cans of what appeared to be vegetables and fruit and he immediately took them in arms and shoved them into his bag. Whatever he could find would be useful. Even with the livestock that the Haven had gathered, and their widespread of fruit and vegetables they were growing, all this food was going to waste otherwise.

Suddenly, Adriel froze, sensing movement. Whether it was angelic or demonic, he couldn't tell at first though. He just felt a supernatural force that seemed to be coming in his direction, so he slowly stood up and looked around cautiously as he narrowed his eyes. Pulling out his angel blade, he pursed his lips, trying to listen. He wasn't in the mood to deal with any of Michael or Lucifer's agents.
_________________



Posts

: 14


Gold Pieces

: 680


Join date

: 2014-09-20

Character sheet
Class: Seraphim
Location: Sanctus
Weapons/Abilities:


Azrael kept as still as possible until she was sure the man was out of earshot. Then she crept into the building, still sticking close to the walls so the shadows would keep her covered. Then she watched, at least partially. Part of her attention remained on the man, the other part of it looked around the building as she moved quietly between machinery, pillars, and whatever else she could duck behind.

After a few moments though, she decided to creep closer, and that was when Az realized that the man was much more than a man...he was an angel. She immediately threw sort of shield over her grace, making it so he couldn't sense her. Too late though, he was already standing back up from where he'd retrieved some cans, and Azrael knew that her slip in judgement was probably going to cost her her cover.

The glint of an angel blade made Azrael grip her own tighter. But she wasn't looking for a fight, not today. All Az wanted was to look for supplies and get the hell out of that building before anything big and bad decided to wander in. She sighed, knowing her only option was to completely blow her own cover and try to be civil. Which could be just as dangerous as remaining hidden, depending on how the other angel reacted.

"Okay, enough games," she called out, still keeping to the shadows. "We're both well aware of each other at this point. How about we talk this out like adults before doing anything stupid. What do you say?" Azrael asked, waiting for his response.
_________________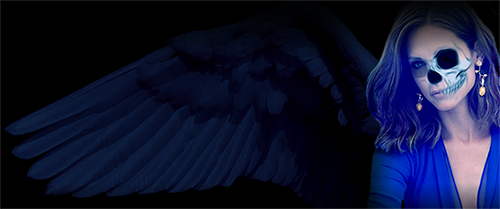 Posts

: 35


Gold Pieces

: 900


Join date

: 2014-09-19


Location

: Near Sanctus

Character sheet
Class: Seraphim
Location: Drifter
Weapons/Abilities:


Whatever this thing was, when Adriel had went to sense for its presence, it was immediately retracted, as if hiding something. So it was either demonic or angelic - both things that Adriel really wasn't in the mood for dealing with. The silence between the two of them only made things worse - he couldn't really shake whether he was about to be ambushed or not.

The voice of what appeared to be a woman suddenly rang through the opening, but he still saw no figure appear. Whomever it was, was also seeming to avoid fighting. Taking a moment to decide whether it was in his best interest to remain peaceful or not, Adriel sighed, letting his hand drop from his angel blade. He hoped he was making the right decision at this point.

"Alright, I'm listening," he spoke calmly as he remained in place, peering out to the other room once more as he pursed his lips. "So what do I have the pleasure of speaking to? A demon or an angel? Because I know you're not human or anything else, otherwise you wouldn't be able to hide it."
_________________



Posts

: 14


Gold Pieces

: 680


Join date

: 2014-09-20

Character sheet
Class: Seraphim
Location: Sanctus
Weapons/Abilities:


Azrael watched as the other angel lowered his blade, relaxing a bit when she realized he didn't want to fight either. That was a step in the right direction at the least. Hopefully this wasn't some sort of trick to get her in the open and then attack. But he'd shown good faith, and Az would follow suit.

She took a deep breath before standing up and stepping into the light, angel blade held up to display but not to suggest hostility. "Angel," Azrael gave something of a small grin before lowering her arm and tucking her blade back into the back of her pants, safe and sound. "And one that would rather not fight their own kind, if it's not too much trouble," she added, taking a few tentative steps towards him. But Az kept her distance, not wanting to upset the situation.

Silence fell then and she crossed her arms, tilting her head a bit. "You don't seem to have much on you," Az remarked. "So I'm going to assume you're not looking for supplies for yourself, right?"
_________________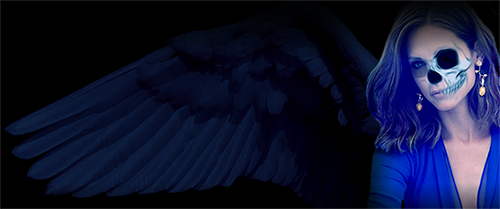 Posts

: 35


Gold Pieces

: 900


Join date

: 2014-09-19


Location

: Near Sanctus

Character sheet
Class: Seraphim
Location: Drifter
Weapons/Abilities:


When the being had stepped into the light, there was a sudden curiosity that struck Adriel. She looked very familiar, yet at the same time, he didn't recognize her. Though when she had mentioned that she was an angel, a bit of relief had swept over him, and he could clearly see that from her grace that was now well presented when he was able to look her in the eyes. Putting his blade away, he was relieved to hear that she didn't have any desire to kill one of her own.

Adriel really wasn't sure what to say. He had a lot of questions - one of which he'd definitely have to find out before they departed from each other. If she wasn't an agent of Michael or Lucifer, what was she doing all by herself? Running a hand to the back of his head, he scratched it thoughtfully and cleared his throat when she spoke again.

"I was just scouting for some supplies to bring back to the Haven. Every bit helps," he muttered. "I mean, I'm an angel, so I don't really need it myself, but..." he trailed off as he shrugged. "Are you by yourself? You don't seem like the type who would just wander alone, and I'm sure you've heard things upstairs haven't exactly been peaceful. Spending too much time out here could get us killed..."
_________________



Posts

: 14


Gold Pieces

: 680


Join date

: 2014-09-20

Character sheet
Class: Seraphim
Location: Sanctus
Weapons/Abilities:


"You're from Sanctus then," Azrael remarked with a slight tilt of her head, as she crossed her arms over her chest. She knew it was a toss up whether revealing information like that would be dangerous or not, but Sanctus was the closest Haven to where they were, and maybe it was help him realize that if she was a threat to the Haven, she would have already done something.

Ah the questions. Azrael was expecting as much, especially after her last encounter with an angel. Both of them had been from Sanctus, now that Az really thought about it, and it suddenly made her wonder just how many angels were behind the high walls. But that was a question for another time, and he'd started the interrogation first. Az would be compliant in the meantime.

"I've...been down here longer than the current fighting has been going on," she sighed, running a hand through her chocolate-brown locks. "And trust me, I'm pretty good at taking care of myself. I'd rather be on my own than stuck at a Haven or wandering around with a group of people. Easier to survive this way, at least I think so," Az shrugged. "What about you, uh...? I don't believe I caught a name."
_________________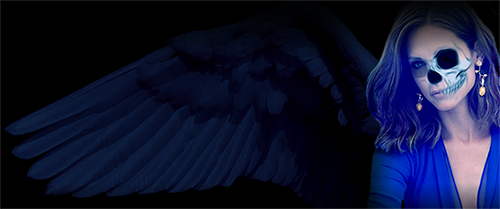 Posts

: 35


Gold Pieces

: 900


Join date

: 2014-09-19


Location

: Near Sanctus

Character sheet
Class: Seraphim
Location: Drifter
Weapons/Abilities:


Listening to what she had to say, he nodded. So she hadn't been to heaven in a while, much longer than even the war had been going on. So was she a fallen angel then? Or did she just decide that it was best to avoid whatever civil issues were going on since God had gone on hiatus. Deciding not to delve too deep into it, he nodded. "I'm from Sanctus, yeah," he started. "Though angels don't really stick around one haven for too long. They usually take shifts protecting each of one. But my family is over here, so I tend to stay longer than usual." His family. It was weird saying that. Though he did have a father, and a sister and her family to look after. It was just such a surreal experience for an angel to have, though he wasn't a normal angel, now was he?

She was asking for a name. Wondering just how long she had been away from home, he felt a sudden drop in his stomach. Adriel was always known as the baby angel (although since Aislinn had been converted, that name quickly transferred to her). It wasn't ever heard of for two angels to have a child, and here he was, full of grace and all. Though, that was thousands of years ago, and it was wiped from his memory during the many times he had been reprogrammed.

Looking away from her gaze, his jaw clenched lightly as he sighed. "I'm Adriel," he started. "I'm not sure how long you've been away from the flock, but things have been... difficult the last few decades. I'm not sure if you've heard anything about the Winchester family or not, but they've been causing a lot of trouble for Heaven. And Hell, too really. But I was caught in the crossfire as a simple soldier until I realized freedom was more important."
_________________



Posts

: 14


Gold Pieces

: 680


Join date

: 2014-09-20

Character sheet
Class: Seraphim
Location: Sanctus
Weapons/Abilities:


Family. Family was always such a strange word for Azrael. She'd had one, a very long time ago, and there were so many memories she could no longer account for, so many blank pages up in her mind where she'd been reprogrammed over and over again to forget. But that had been a different her, in a different world, and so she forced herself to push the thoughts away before she ended up bringing some sort of flash-back upon herself. She didn't need that sort of distraction right now.

Azrael smiled, not letting all the sudden emotion she'd felt show on her face. It wasn't unheard of for angels to group together in family units, and that was what she assumed the other angel meant. Of course, if she'd known the truth, she probably wouldn't have had much of a different reaction. Az was...different in that regard. The choices of the other angels didn't matter to her, she understood that sometimes you just had to break away from the rules, and there was nothing wrong with that.

"I wasn't aware you guys had some sort of system set up for that," she said, tone soft and curious. Az spent so much time away from other angels these days that finding out they were working within human settlements made her somewhat happy.

Finally a name was given and Azrael didn't bat an eyelash. Any angel name she didn't recognize meant the angel was younger than her, and this wasn't an uncommon occurrence. Az certainly wasn't the oldest angel -- having been transformed into an angel a little after the creation of humans -- but she definitely wasn't the youngest either. She let Adriel continue for a few more moments before giving him a small grin, and nodding. "I know all about the Winchesters, been following up on their story for years now. It's a bit hard to miss the kind of...history they leave in their wake." Especially when you were The Angel of Death.

"I know about Heaven and Hell too. I'm very intertwined with both planes, if we're gonna be honest with each other," she added. "I'm Azrael by the way. Should've said that earlier but...better late than never I guess." And then she waited, wondering if he was another angel who didn't recognize that name, or understood the weight of it.
_________________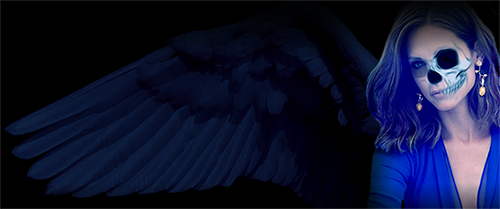 Posts

: 35


Gold Pieces

: 900


Join date

: 2014-09-19


Location

: Near Sanctus

Character sheet
Class: Seraphim
Location: Drifter
Weapons/Abilities:


---
Permissions in this forum:
You
cannot
reply to topics in this forum